It's a must to inspect the metro tunnel in a timely manner, as the structural defects are of great importance to operational safety and maintenance (see Fig. 1 & 2). Compared with the traditional manual inspection, 3D laser scanning enjoys overall efficiency in terms of both inwall health conditions and tunnel structural information, other than specific to one kind. This study is to introduce a new methodology, one-stop mobile scanning and automated detection, and illustrate how it works in the actual application of metro tunnel inspection.

1. Background Information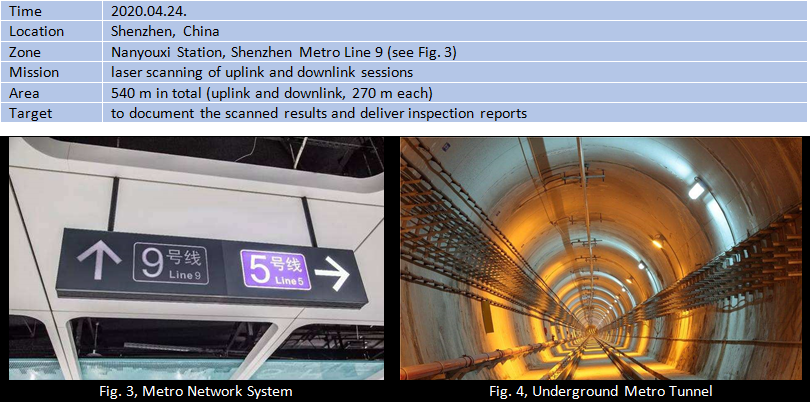 The employer was actually a contractor dealing with the local metro company for long, and this team was responsible for the metro tunnel inspection (see Fig. 4) at regular intervals, like monthly and quarterly. They used to do it with terrestrial laser scanning, but tripod-mounted mode and visual troubles resulted in repeated station movements. It has always been a headache to the industry, as the multiple station measurements would inevitably transfer accumulated errors and data mosaic could bring unequally distributed point cloud, more or less.
2. One-stop Solution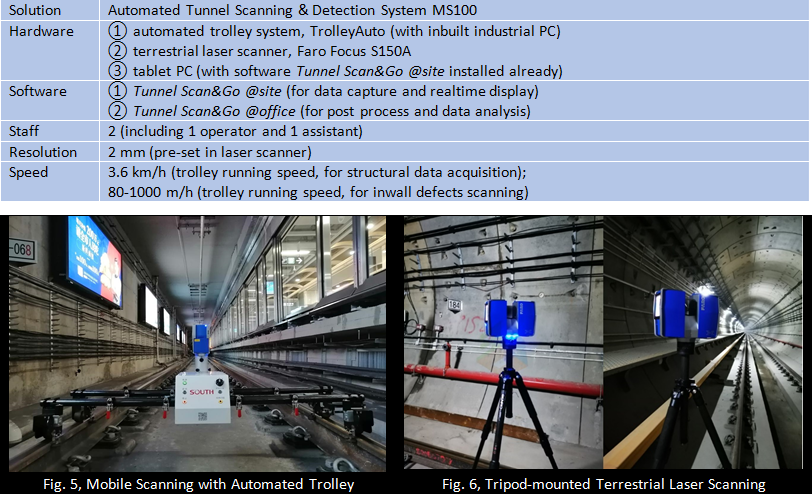 This time, the Automated Tunnel Scanning & Detection System MS100 took the place of the conventional terrestrial laser scanning. This solution was tailor-made to provide continuous scanning on a mobile but stable platform (see Fig. 5). The automated trolley system, TrolleyAuto, carries the 3D laser scanner on its specific connector interface customized for this purpose. While running, the TrolleyAuto records data collected by laser scanner and stores simultaneously into its inbuilt industrial computer. Then, the inspection job could be done in one shot, without moving station setups (see Fig. 6), and data mosaic trouble is gone as well.

For more details of Automated Tunnel Scanning & Detection System MS100, please click https://www.southinstrument.com/product/details/pro_tid/1/id/187.html
3. Mission Analysis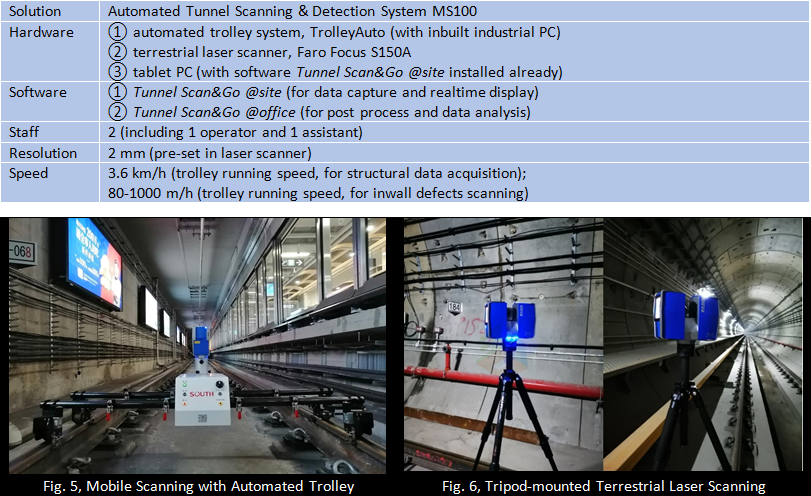 This revolutionary solution features mobile scanning, motorized control, on-site output and automated detection (see Fig. 7). The system serves as a smart A&E doctor capable of automatically finding out the structural defects with details like location, length, size, category by AI-based algorithm and machine learning techniques. Besides inwall diseases, the system also deals with the tunnel structural information like sectional data, segment ovality, breakage faulting, tunnel limit (see Fig. 9), tunnel gauge, tunnel clearance (see Fig. 10), etc. All of these are vital signs to track deformational progress and help much with analysis-based regular maintenance (see Fig. 8).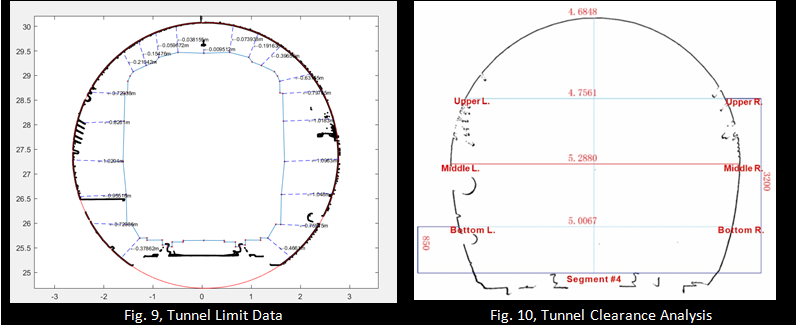 4. Job Description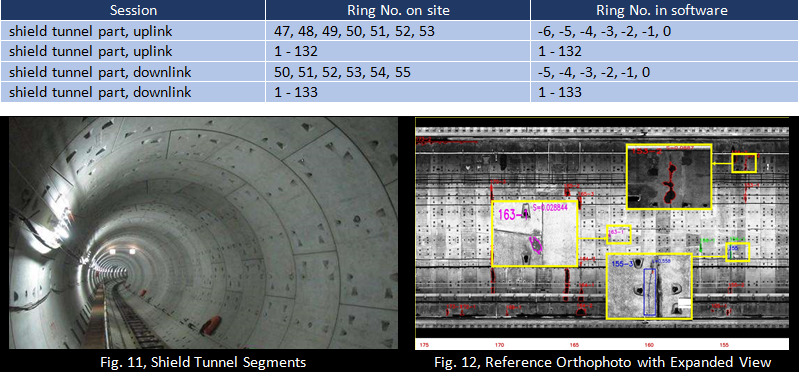 In the circular orthophoto (see Fig. 12) generated in software, the station part is segmented into ring portions by 1 meter each. For the shield tunnel part (see Fig. 11), 1.5 meters each.


In the circular orthophoto, nothing could hide. The next step goes to computer vision and big data analysis and that's automated detection of the structural defects (see Fig. 13). Nearly all problematic portions (see Fig. 14) will be detected in big data computation and analysis while the remaining 10%, more or less, requires double checking and manual editing. Are you crazy about this kind of magic?