Terrestrial laser scanning is seemingly the best choice of all for metro tunnel inspection due to outcome diversity and digitization possibility in particular. Compared with robotic total station monitoring, laser point cloud can still reconstruct the 3D environment of the metro tunnel. That's why most of the contractors are utilizing it nowadays. Consequently, how to make full use of this approach and meanwhile offset its shortage indicates a new direction for R&D.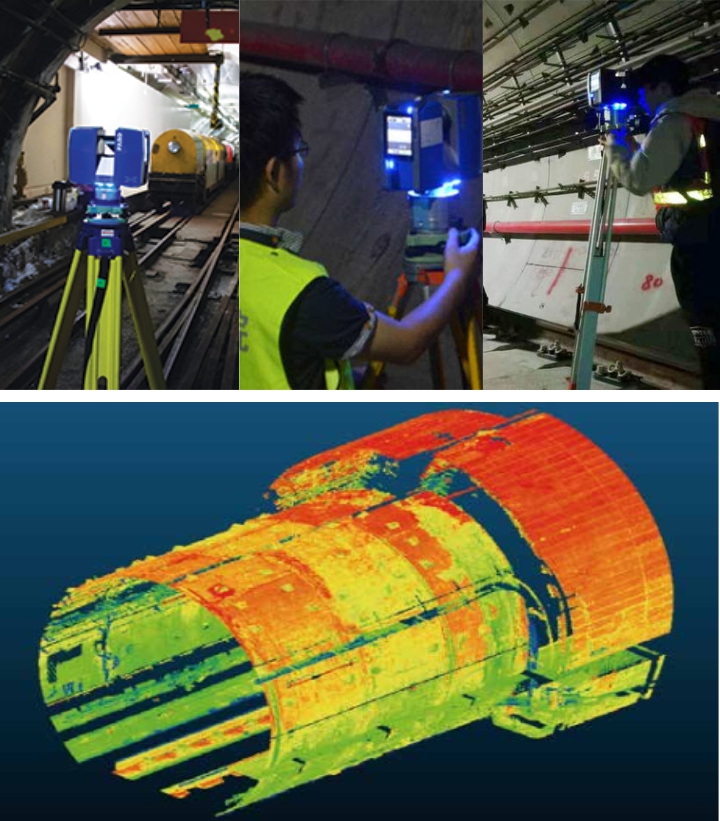 However, the repeated station movements of conventional laser scanning inevitably comes up with accumulated errors to transfer and data mosaic trouble from multiple station setups. And the unequally distributed point cloud outcome would also affect the defects detection indeed. On the other hand, there's still another mobile scanning approach, hand-push trolley-based scanning, which is intended to address the problems of tripod-mounted way likewise. Yet, manual push and stop&go is not a perfect solution in terms of moving efficiency and point cloud data quality, as it's really hard to keep a constant speed when walking through the railway. Moreover, based on the point cloud, quite a lot of end products are expected to have a comprehensive check-up of the metro tunnel.
How MS100 came into railway community?
Therefore, one-stop mobile scanning and automated detection shall be a valid alternative to the conventional terrestrial laser scanning mounted on a tripod and even hand-push trolley-based scanning. And that's why the one-stop mobile scanning and automated detection system MS100 for metro tunnel came into the railway community.
Features of this system…
① highly integrated system with toolless assembly and quick installation
② automated trolley unit by motorized control and software-driven commands
③ industry-leading terrestrial laser scanner to work in a creative mode, mobile scan
④ mobile scanning at constant speed, and adaptive cruise control embedded
⑤ optional running speeds based on different scan resolutions
⑥ on-site output, circular orthophoto realtime display with a few seconds delay
⑦ structural data analysis comes out shortly after fieldwork
⑧ defects analysis powered by artificial intelligence and machine learning technology
⑨ one-stop software solution helping users from acquisition to application
⑩ easy-to-use hardware control and project-based software logic
How does MS100 work in the field?
Please click this link https://www.youtube.com/watch?v=13P9Xq_YX-4 and you may understand the essence of this system, like toolless assembly, motorized control, automated running and realtime display, etc.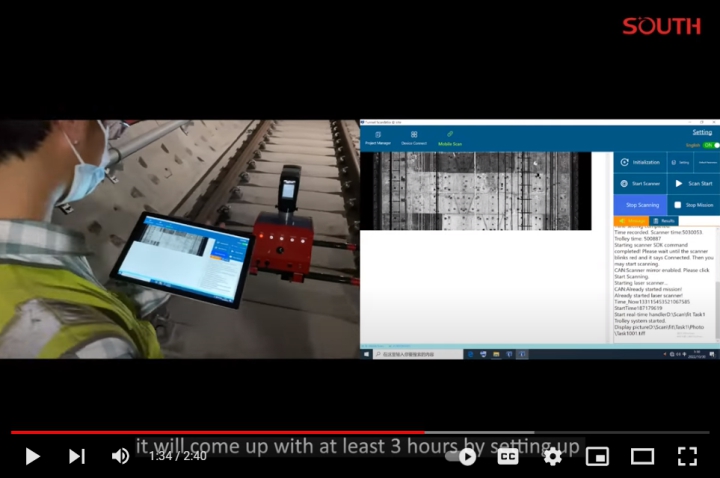 One-stop Mobile Scanning & Automated Detection System MS100
What does All-in-One software Tunnel Scan&Go really mean?
With this new solution, there's one stop only and you don't need to turn to any third-party software for desired results. In other words, you may just stick to this All-in-One software from field to office, from data capture to report export. Please click this video link https://www.youtube.com/watch?v=Hx-GUSFXqJ8 to see the magic.