PRODUCT CONFIGURATION LIST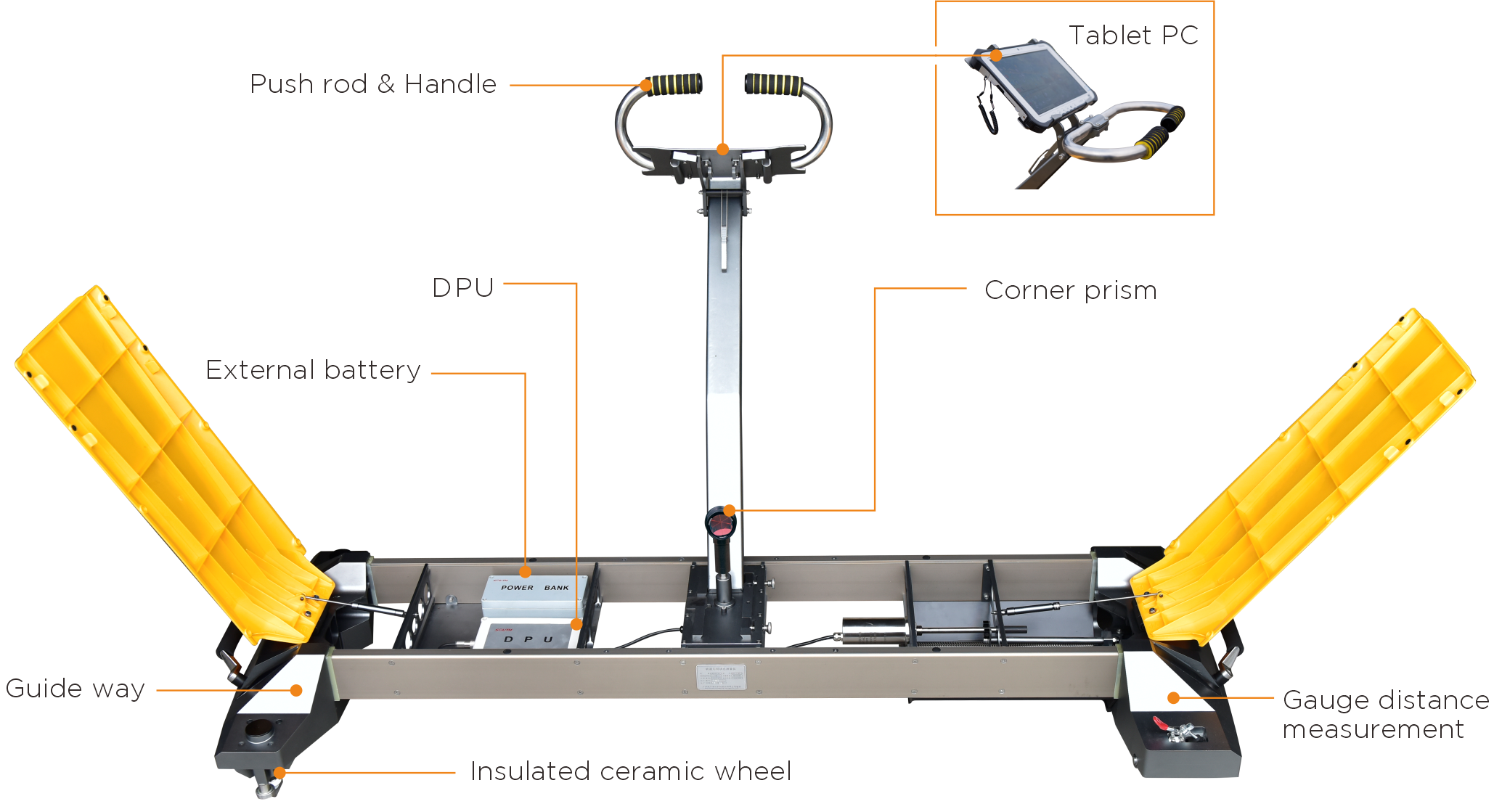 PRODUCT FEATURES
Structural Stability
I-Type double-beam structure; double T-shape insulated roller; the double-beam triangular top-of-rail structure ensures the uniqueness of top-of-rail and avoids the instability of short T-shape. Integrated body-frame, no geometrical deviation caused by disassembly assembly.
Modularization Design
Easy to assemble and maintain. Sensor, DPU, wireless radio and external battery uses modular design, can be independently exchanged. The devices are connected by in-line connectors, requires no soldering, which is convenient for on-site fault diagnosis, equipment maintenance and replacement. Data is bidirectional real-time backup, without checking after replacing parts.
Industrial Grade Tablet PC

Panasonic fully rugged tablet PC FZ-GI (meets the US military standard MIL-810G standard, waterproof, dustproof level to IP65atandard, shock / impact / wide temperature, has passed the 180cm drop test) as the measurement data acquisition terminal, adapting to the harsh working environment in the field, and the screen display is visible under direct sunlight.
Long Duration
With a large-capacity rechargeable battery that directly supplies powers to it itself and tablet PC. The battery can be used for 30 hours after fully charged.
Steady Communication
4.0 Bluetooth connection between its own devices, stable and reliable. Communicating with total station via radio station, and the reliable communication distance of more than 200 meters.
Lower Loss
Insulated ceramic wheel, processed by precision machining, the rim is smooth, steady and wear-resistant when wheel is running, wear rate/ 500km≤0.03mm.
Safe Reliability
The body is insulated in three sections to ensure that the left and right rails do not conduct each other during the operation. Complies with the safe operation regulations for track detection during line construction and maintenance.
Fast Measurement
Equipped with high-precision sensors such as gauge sensor and horizontal sensor; adapting to the track measurement of trams; with independent guide wheels and measuring wheels, it can be running on the track smoothly and steadily, and complete fast dynamic measurement; Supports track measurement of streetcar.
Precision Measurement
A target prism mounting mechanism is arranged in the middle of beam. With target prism and high-precision automatic total station, can measure the track statically and adjust the rail finely. A high-precision spherically corner prism is adopted, without the reflection and refraction process of conventional prism glass, the attenuation of the ranging laser energy is minimal.
APPLICATION EXAMPLES
MEASLLEY-IV has been successfully applied in Guangzhou metro line 21 (October, 2017), Chengdu-Guiyang Railway (November, 2017), Wenzhou metro, etc. It has unanimously praised and trusted by users.